Medinformatix Electronic Health Records
When first opened, the MedInformatix Electronic Health Record contains a summary of the patient's chart on the right with the workflow listed on the left. These are both customizable. Along the top of the screen, there are buttons to access other areas of the system, e.g. past documents, patient billing, orders, prescriptions, lab results, etc.
Data may be input into the EHR several ways. Most physicians elect to use a wireless, hand-held device with touch screen technology. This makes it fast and easy to select values from the customizable choice lists. To further increase the speed of data entry, the physician can use pre-defined "Normals" or copy the information from the patient's last visit.
The Document Repository acts as the paper chart and each section may be created and named by the practice. All documents stored in the repository may be printed or faxed at any time.
Key Features:
Meets Stage 1 of Meaningful Use criteria
Customizable patient chart summary and workflow
Readily available specialty-specific templates
Document Repository holds any scanned or incoming faxed documents, hospital, lab, radiology reports, and digital images
Documents can also be electronically signed and saved as an encrypted, medically legal document


MedInformatix Electronic Health Record Version 7.5 ONC-ATCB Certified as a Complete EHR.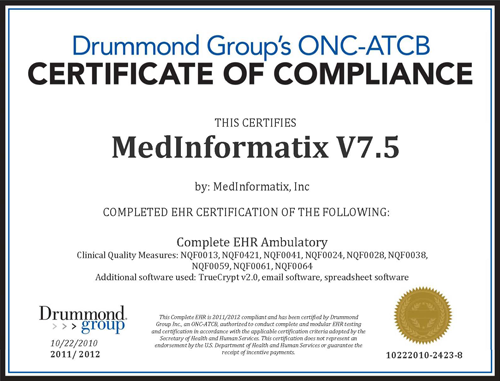 MedInformatix offers their award-winning EHR tailored to a variety of specialties including:Family Practice, Internal Medicine, Pediatrics, Pulmonology, Podiatry, Ophthalmology, Orthopedics, and much more!
MedInformatix V7.5 Has Been ONC-ATCB Certified to Meet All Meaningful Use Criteria.
This Complete EHR is 2011/2012 compliant and has been certified by an ONC-ATCB in accordance with the applicable certification criteria adopted by the Secretary of Health and Human Services. This certification does not represent an endorsement by the U.S. Department of Health and Human Services or guarantee the receipt of incentive payments.
MedInformatix, October 22, 2010, Version 7.5, 1022201024238, Clinical Quality Measures: NQF0013, NQF0421, NQF0041, NQF0024, NQF0028, NQF0038, NQF0059, NQF0061, NQF0064. Additional software used: TrueCrypt v2.0, email software, spreadsheet software.


Program Features
   o    Electronic Medical Records
   o    Practice Management
   o    Data Analysis (Outcomes, Quality, Process)
   o    Billing & Accounts Receivables
   o    Collections
   o    Electronic Claims Submission
   o    Electronic Payment Remittance
   o    Scheduling
   o    Patient Lab Information
   o    Document Imaging
   o    Report Generation
   o    Industry Standard HL7 Interface Engine
   o    Drug to Drug Interactions
   o    E-Prescribing  
   o    Eligibility Checking
   o    Patient Portal
   o    Provider Portal
   o    HIPAA Compliant